DO YOU OWN A NEWFOUNDLAND DOG AND HAVE TO SURRENDER IT?
We can imagine this decision is very troubling for you… No matter what the reason is, we offer our help in giving your dog a second chance – a safe home where it will be loved and receive appropriate care.
YOU HAVE THOUGHT ABOUT IT, AND ARE READY TO ADOPT ONE OF OUR PROTÉGÉS?
We sincerely value your interest and will consider each application very carefully. Adopting a rescue dog or an adult dog is a gesture from the heart, and most of the time, great friendships between dogs and humans emerge when people are ready to give a little (or a lot!) of their time.
YOU OWN A NEWFOUNDLAND DOG AND ARE EXPERIENCING SOME DIFFICULTIES SUCH AS…
Education, behaviour, obedience, health, caregiving, grooming, etc.? We will try our best to help you. If the problem exceeds our competence, we will do everything we can to refer you to those who have the right skills to help you solve your problem.
YOU WOULD LIKE TO HELP, BUT CAN'T ADOPT?
Quebec newf rescue is a non‑profit organization run by volunteers. We are more than happy with any help we can get!!! Our financial resources are limited, and the number of dogs in need is constantly growing. Would you like to make a monetary contribution, help with transportation, give food or toys, or share you talents as a manager? Please, do not hesitate to contact us!
Whatever your reason is for visiting our Web site, we want to help you: whether we can help you solve your problem so that you can keep your dog, or need to find him a new home and give him a second chance at a happy life. We are a group of Newf lovers, and we offer you our knowledge, resources and energy.
Feel free to contact us! We will be more than happy to help you!
We are working together as a team to give NEWFOUNDLAND dogs a second chance at a happy life
For immediate assistance
s.o.s.terre-neuve@hotmail.com
Quebec Newf Rescue
Volunteer support centre for Newfoundland dogs in need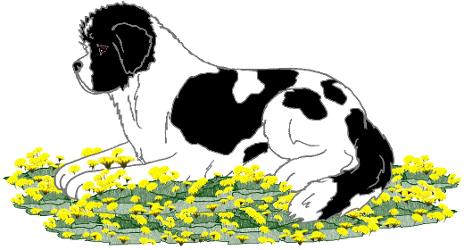 OUR MISSION
Quebec Newf Rescue is made of a small group of Newfoundland dog lovers, whether they are breeders or simply dog owners. Their common interest is their great love of the breed and one ultimate goal: their welfare. Given the ever‑growing number of Newfs in need, our mission is to maintain a rescue service for Newfoundland dogs in the province of Quebec. Ours is a vast territory, but our passion is even bigger!!!
Firstly, our small group of volunteers offers help to families who are thinking about surrendering their dog for any particular reason; through our expertise, our experience and our resources we will try to help them solve their problems so they can keep their Newfoundland dog. Secondly, we offer to take in surrendered dogs and give them a second chance at a happy life.
The myth that shelter or rescue dogs have been beaten and neglected, or have behavioural problems that cannot be solved is rarely true. Dogs that come into our care usually come from families who no longer want or can keep their dogs. There are many reasons for that – divorce, birth, illness, relocation, occupational change, lack of time or the discovery of unsuspected characteristics such as drooling and shedding. There are also those that have been found as a stray or abandoned and are referred to us. Yes, these dogs have probably been neglected, but nonetheless are MORE THAN ADOPTABLE!!! The Newfoundland dog is gentle in nature. Despite these sad circumstances, they usually remain the most adorable dogs!

HOW WE DO THINGS

When someone contacts us to surrender their dog, we try to gather as much information as possible in order to help the dog settle in its future family. A member of our group will take care of transportation if the owner is not able or does not want to come to us because of distance or a lack of time.
Once we get the dog, it will be checked by a veterinarian, and spayed or neutered if not already done, and then his behavior will be evaluated. We'll get to know it and will identify its particular needs in order to choose the right family. The dog will stay under our care or in a pre‑approved adoptive family until we find the best match for it.

A rescue organization is not a commercial business – our goal is to find the right permanent adoptive family for every dog that comes into our care. Families who wish to adopt a dog through Quebec Newf Rescue have to contact us and meet certain criteria we feel are important for the welfare of a Newfoundland dog: nothing complicated, only those same questions a responsible breeder would ask. Even though Newfs are amazing companions and great with kids, the breed is not for everybody. A Newfoundland dog is unhappy if isolated; it needs a two-legged or four legged pack to be happy… If you do not intend to share your life or your activities with your dog, another breed might be better for you.
Once the dog is placed in a new home, we do follow‑ups in order to make sure it is adapting well to its new environment and that everyone is happy. We are always available to answer the families' questions and give them advice.
While we are a non-profit organization, a donation is recommended for each adoption so that we can keep taking care of dogs that come into our care and make sure they are in good physical and mental health.

Feel free to contact us!